Description
7 Day Detox & Colon Cleanse
Cleanse your body and mind from toxic buildup in the digestive tract with this unique herbal formula. Through fasting with the support of nutritional supplements, eliminate mucoid plaque, parasites, toxins, fecal accumulation, heavy metals, medications and more.
Om Detox 7 day program was created by Dominique Julien, naturopath and detox mentor on the famous TV show The Retreat with Nick Knowles (on Netflix UK and BBC Two). It is now possible for you to experience the same program she proposed in the comfort of your home, and for a fraction of the price. No need to fly to the other side of the world!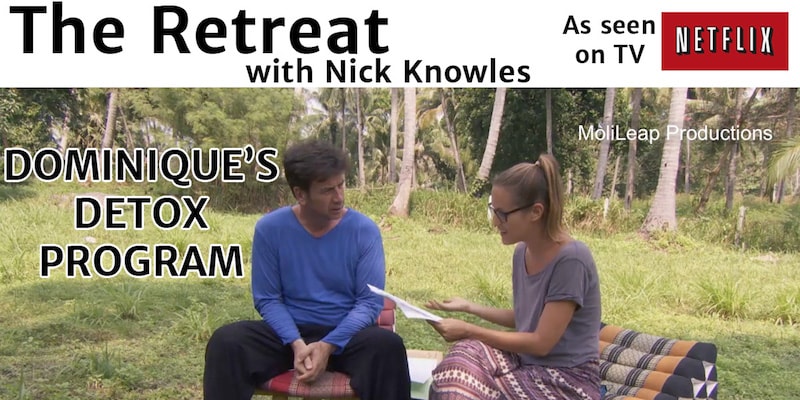 Get immediate results:
Weight Loss
Better digestion
No more constipation
Clearer skin (acne, eczema, psoriasis)
Mental clarity
Kill parasites and candida
Reduce inflammation (back pain, muscle soreness, arthritis)
Better sleep
Colon cleansing is beneficial for everyone. Normally, people can carry 5 pounds or more of excess waste in their colon. For many reasons, these fecal buildups have resisted your body's attempts at elimination. This can result in poor digestion and deficiencies in essential vitamins and minerals. If the nutrients are not absorbed properly into the bloodstream because the intestines are clogged up, your body may not receive proper nutrition.
Our colon (and other organs) often show signs of toxicity. Weight gain or the inability to lose weight is a sign that the colon needs to be detoxified. Doing a cleanse allows elimination of old waste and rapid weight loss. On the first day that you will start following our pre-cleanse diet recommendations, you will start feeling better and losing weight. During Om Detox 7 day detox and colon cleanse, people may lose 5 to 10 kilos, more or less.
There are a variety of health problems that can result from poor colon health. Eating a diet that is rich in processed food, saturated fat, industrial sugar and chemicals causes toxins to stick to the intestinal walls, causing poor digestion and weight gain. The lack of fibre in the food we eat does not encourage regular bowel movements, which is causing an accumulation of toxic waste in the bowels. Chronic constipation is a common condition that is too often ignored. A healthy colon should produce one to three formed bowel movements per day. Anything less than that is called constipation. Stagnant stool in the colon is a perfect environment for the breeding of bad bacteria and parasites. When we are constipated, toxins that are meant to be eliminated are reabsorbed through the colon wall, creating different immune reactions, fatigue and weight gain. Once the colon is cleaned, energy levels can rise. A detox allows the body to release toxins from the system, creating a feeling of rejuvenation. All the energy that was used to move toxins out of the colon can now be used elsewhere. Most people that completed our program report having more energy and endurance at the gym, facilitating weight loss.
OmDetox

 Ingredient

Using Natural and organic products without chemicals and preservatives is a priority for us. Our products are manufactured in a GM facility with the highest standards. Non-GMO / Gluten-free / 100% Vegetarian capsules / No flow agent.

Each 7 day kit includes:

70 Herbal Supplements containing Spirulina, Chlorella, Moringa, Alfalfa, Wheatgrass. Our vegan formula will provide additional nutrition such as protein and lipid, to maintain normal functions during the cleanse.

70 Intestinal Cleaners containing Triphala, Turmeric, Clove, Ginger, Garlic, Fennel, Fenugreek. These herbs can break up toxic buildups in the intestines and remove the accumulated plaque and fecal matter. This is a gentle and non-abrasive laxative.

Bentonite Clay (powder) binds to toxic material and carries it out for elimination. It can absorb up to 40 times its weight. It is the best heavy metal detoxifier and it helps eliminate mold, fungus, toxins and other chemicals.

Psyllium Husk is the best for cleansing the digestive tract. The fibre sweeps the intestines clean of all waste, binding to loosened plaque and other toxic material. It also helps relieving hunger during this complete body cleanse.

30 Probiotic capsules: A blend of 20 billion active strains of Lactobacillus-acidophilus, Lactobacillus-plantarum, Lactobacillus-fermentum, Lactobacillus-reuteri, Lactobacillus-rhamnosus, Bifidobacterium-bifidum, Bifidobacterium-longum.

Colon Cleansing Equipment: One enema bag that can contain 2 litres of water.

1 Detox Manual: information about fasting and detox, detailed schedule, pre-cleanse recommendations, colon cleansing instructions, post-cleanse guidelines and links to online video support and yoga.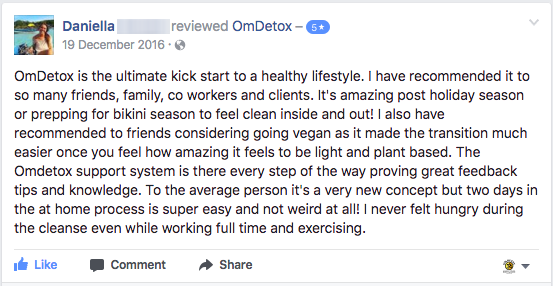 *Shipping currently not available to Germany or Austria