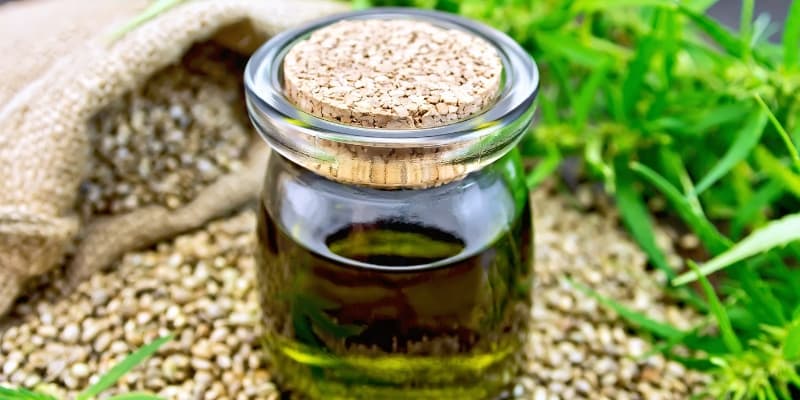 Until recently, the best-known compound in cannabis was THC (delta-9 tetrahydrocannabinol).
THC is what makes people high when they smoke marijuana. It is the main psychoactive cannabinoid of the plant.
But THC is one of the 104 chemical compounds found in the marijuana plant (Cannabis sativa).
CBD (cannabidiol) is another compound of the plant and is becoming more and more popular among people who are looking for an effective natural remedy for their pains and ailments.
So if CBD comes from the cannabis plant, do people get high on it?
The answer is NO! CBD is not a psychoactive substance.
This is why CBD is so appealing to those looking for pain relief without the side-effects…
How do they make CBD?
To make CBD oil, it needs to be extracted from the plant. Then it is diluted with another oil like hemp seed oil or coconut oil, depending on the brand. 
Is CBD oil really effective?
CBD oil has gained more popularity in the last few years because of scientific studies showing the benefits of its use. Research has confirmed that CBD oil may help treat several ailments such as chronic pain and anxiety.
CBD oil to relieve pain
My brother-in-law (who smokes weed) always says that "smoking is his medicine!"
Although I hate the idea of filling my lungs with smoke, he's not completely wrong…
Marijuana has been used for pain for such a long time… The Chinese started using it as far as 2900 B.C.
But in the last decade, scientists have found that CBC, like other components of marijuana, has amazing pain-relieving effects.
You see, you have a specialized system called the endocannabinoid system (ECS), which regulates many functions in your body like your sleep, your appetite, pain, and your immune system response.
Your body produces neurotransmitters called endocannabinoids that bind to cannabinoid receptors in your nervous system.
Scientists have demonstrated that CBD may help reduce chronic pain by affecting endocannabinoid receptor activity, reducing inflammation and interacting with neurotransmitters.
Studies in humans show that using CBD can help reduce the symptoms of multiple sclerosis and arthritis.

CBD to treat anxiety and depression
Anxiety and depression are normally treated with pharmaceutical drugs and they come with side effects like insomnia, drowsiness, sexual dysfunction, and headaches.
Additionally, these drugs can be addictive and often lead to abuse and worse illnesses.
CBD oil may be a great alternative to these pharmaceutical drugs because it's been show to be effective and without any undesirable side-effects.
CBD is also used to treat insomnia and anxiety in children with PTSD.
The antidepressant properties of CBD are due to its ability to act on your brain's receptors for serotonin, a type of neurotransmitter that regulates your mood.
Researchers have also suggested that these stress-reducing properties are responsible for CBD's ability to help lower blood pressure.
CBD to reduce cancer-related symptoms
CBD oil is used to help cancer patients reduce their pain and symptoms during cancer treatment, like nausea and vomiting.
Nausea and vomiting are the most common side effects of chemotherapy and many cancer patients are not able to get relief from pharmaceutical drugs. CBD may be the best alternative for them.
Studies have even shown the anticancer properties of CBD. A test-tube study found that concentrated CBD encouraged cell death in human breast cancer.
Another study revealed that CBD stopped the spread of aggressive breast cancer in mice.
Of course, more research in humans is needed to prove the effectiveness of CBD to treat cancer.
CBD for Epilepsy and multiple sclerosis
Out of all the uses for CBD, the most studied ones are the treatment of neurological disorders like epilepsy and multiple sclerosis.
CBD can reduce muscle spasticity in people suffering from multiple sclerosis.
CBD can also reduce seizures in people suffering with epilepsy.
Some studies have shown that CBD could improve the quality of life and sleep of people suffering from Parkinson's disease.
Animal studies have demonstrated that CBD may help prevent neurodegeneration from Alzheimer's disease.

How to take CBD
If you're new at this, you probably don't know how to take CBD oil… Should you smoke it? Should you cook it in food? What's the best way to take CBD oil?
CBD oil comes in different forms so you can choose what works best for you… There are three ways that you can take CBD oil: orally, by topical application, or by inhaling it.
Taking CBD oil orally
While you can take CBD oil as a straight oil, it's also available in capsules, tinctures, and creams.
If you're new at this or you don't like the taste of the oil, then you should get the capsules. They are just as easy to swallow as any other pill.
If the taste doesn't bother you, then take the oil straight under your tongue for maximum absorption.
Use the dropper to place the correct quantity of drops under your tongue and hold it for a minute to allow the absorption via the blood vessels underneath your tongue.
You can also use CBD oil in food. You can add it to your smoothies, to butter or oil, or any type of beverages.
This method is fun and easy but the oil will not be absorbed as fast as under the tongue. The oil will rather be absorbed in your digestive tract… so keep in mind that it will take longer to feel the effect.
If you're using CBD oil to treat sore muscles and joint pains, a topical application is for you.
You will find lotions and creams that are made just for that. Make sure you let your skin absorb the cream before washing.
How to choose your CBD oil
It's best to find a high-quality product when it comes to your health. It's important that you know that it was grown organically without any chemicals that could affect your health negatively.
Make sure to use a certified organic, non-GMO, and third-party tested CBD oil that was minimally processed.
When a product is third-party tested, it assures you that it does not contain any bacteria or fungus, pesticides or residues.
I really like this brand. What about you? Do you use CBD oil?

CBD oil for pets
Did you know that you can give CBD oil to your pets?
Why would you do that? Well because they can suffer from the same pains and aches as we do…
CBD oil can help your pet feel more relaxed. For example, dogs that went through traumas and are now aggressive may benefit from taking CBD oil.
CBD can also help older pets that are experiencing a decline in their mobility.
To give CBD oil to your pets, simply add it to their food.
Once again, choosing a high-quality brand is best for your pet's health!