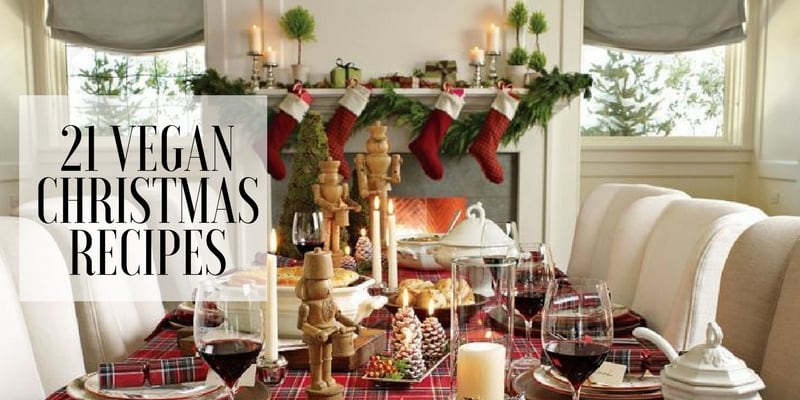 I have been looking for the perfect vegan Christmas recipes for you and tah dam! Here they are. After last week's blog on all my favorite non-alcoholic drinks for the holiday, I had to put together a healthy menu for your dinner parties. All the dishes that I found will look great on your Christmas table and will have your guests go WOW! No need for meat and dairy to have a beautiful holiday feast.
Here are 21 vegan christmas recipes for everyone to enjoy!
Gluten-free Gingerbread Cookies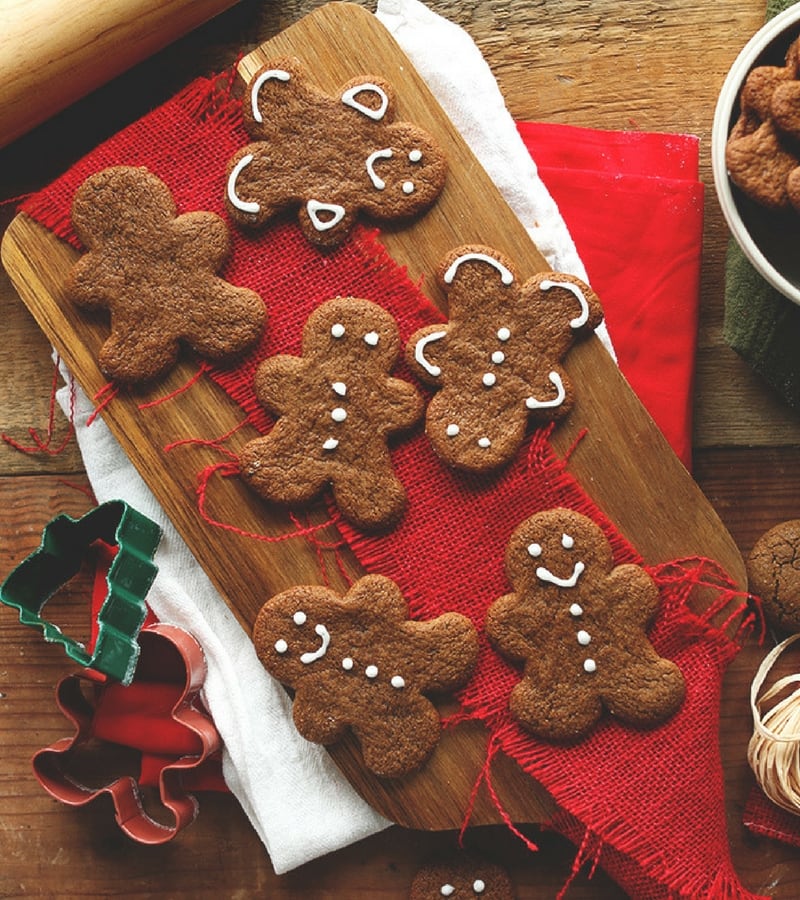 What would Christmas be without gingerbread man cookies? The smell of these little guys brings back memories of my childhood, when baking with my mom. This recipe is not only vegan, it's also gluten-free. It's packed with healthy grains, so that you can enjoy your cookies guilt-free.
Get the recipe from Minimalist Baker

Glazed Lentil Walnut Apple Loaf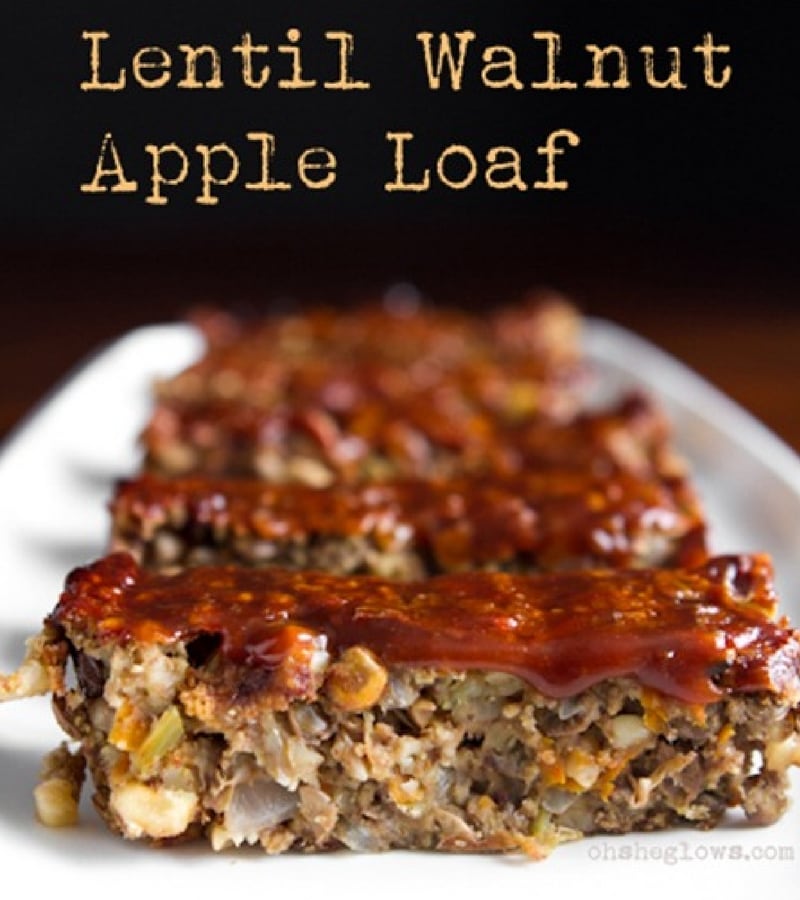 A meatloaf is always a hit during the holiday season. Why? It's comforting, filling and it pleases everybody: the children, the uncles and even gramma. You will find that this glazed lentil walnut apple loaf from Oh She Glows is to die for. You can make one large loaf for a sitting dinner, or various mini loaves for a buffet style Christmas night.
Get the recipe from Oh She Glows

Classic Veggie Shepherd's Pie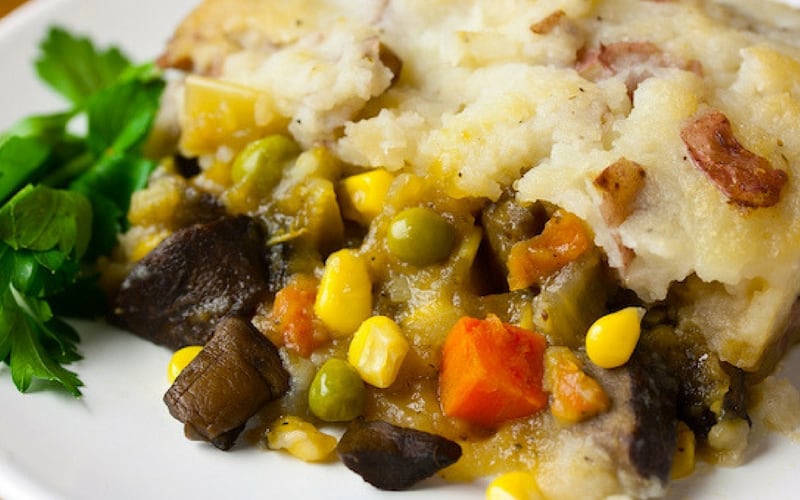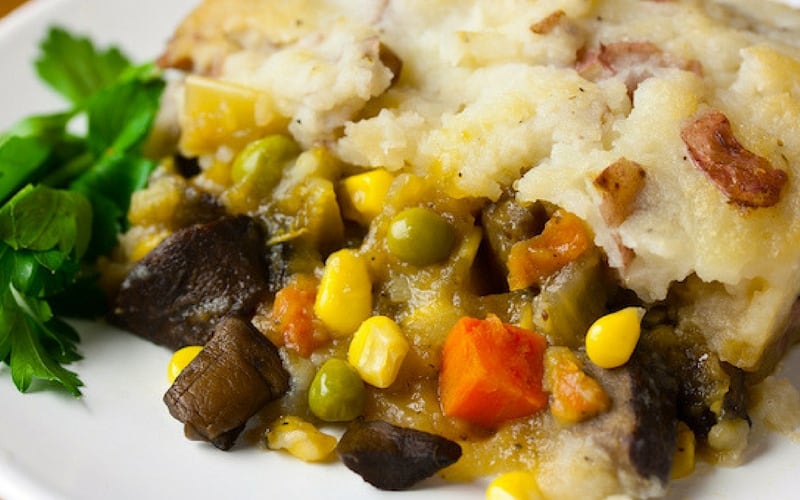 This is a classic casserole! It requires a bit of time in the kitchen, but at the end, it's all worth it. This vegetable-filled shepherd's pie is simply delicious and comforting. You could add soy protein if you would like more meat texture for the omnivorous family.
Get the recipe from Veg Kitchen

Vegetable Stuffed Seitan Roast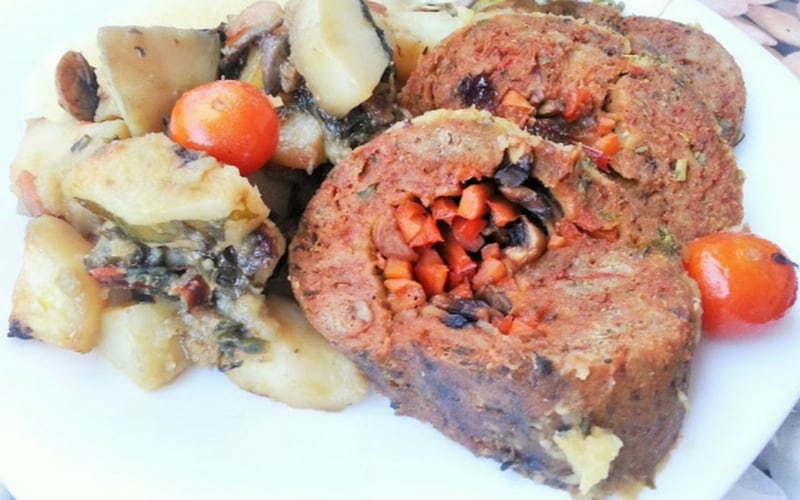 Forget the store-bought seitan. People don't realize how easy it is to make seitan. Plus, it's super inexpensive. This stuffed seitan roast will satisfy all your guests, vegan or not. The seitan dough is worked with herbs like rosemary, thyme, and smoked paprika, which adds a lot of flavor to the dish. This vegan Christmas recipe will get many wows and ahhhhs!
Get the recipe from One Green Planet

Hearty Vegetable Pot Pie
Everyone loves a vegetable pot pie because it's a classic. Perfect for the cool weather of the holiday season, this vegan pie is filled with the best veggies. It will look gorgeous on your Christmas table. The recipe makes two pies, enough for at least 12 people.
Get the recipe from Veg Kitchen

[omdetox_newsletter]

Make-Ahead Roasted Butternut Squash Casserole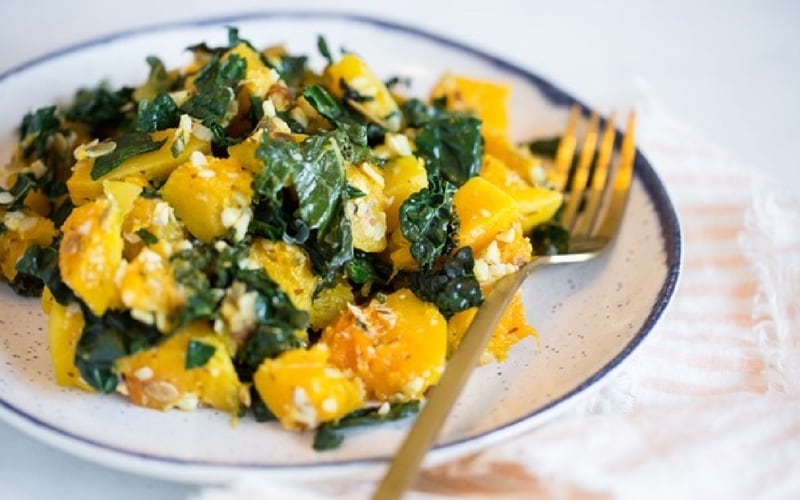 This casserole is great for the holidays because you can prep the ingredients a couple of days before. We all know that having guests over can be quite demanding in the kitchen. So if you can do a little bit in advance, it will free up some time on the day of your party.
Get the recipe from Oh She Glows

Lemon Roast potatoes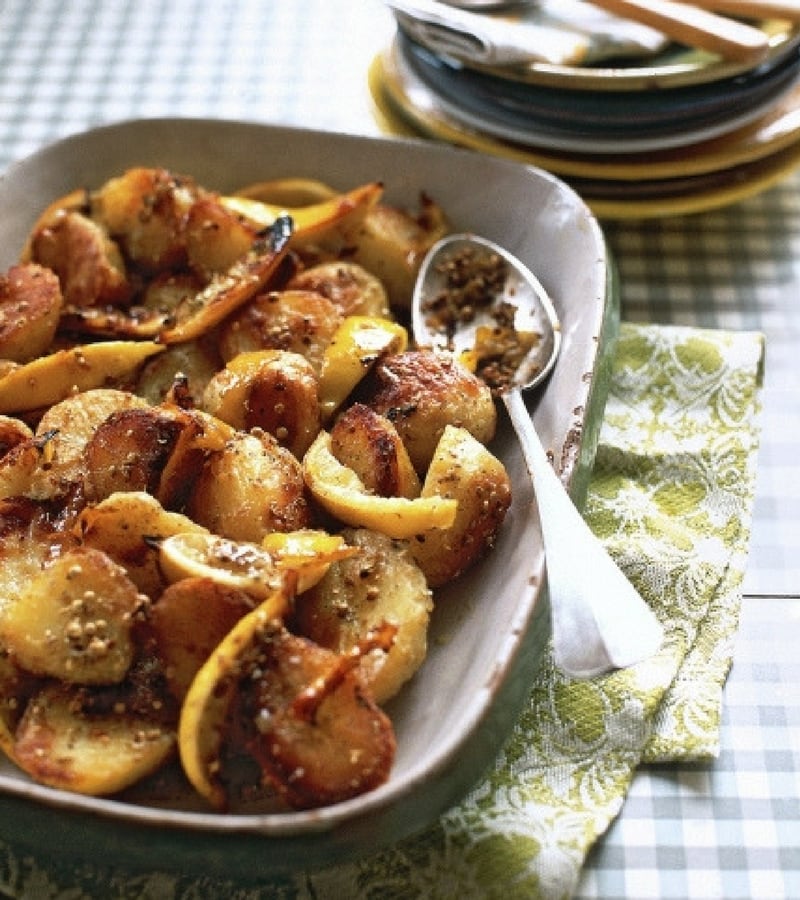 Roasted potatoes usually don't last long on the table. But who would have thought of adding roasted lemons to this popular dish. Your guests will be impressed with your creativity, that's a sure thing. Just don't tell them that it's a classic from Jamie Oliver!
Get the recipe from Jamie Oliver

Savoury Smoked Tofu and Mushrooms Strudel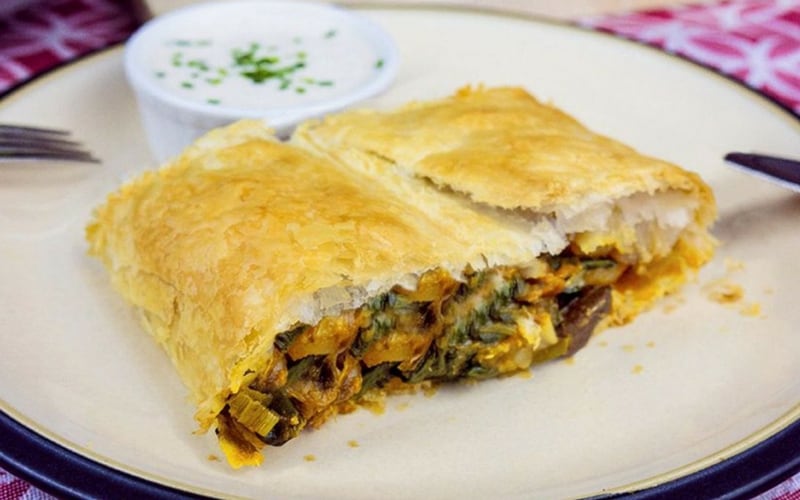 Who doesn't like strudel? Savoury or sweet, a strudel is a dish that anyone will enjoy at parties. This vegan recipe is easy to make and perfect for your Christmas potluck. This one is filled with smoked tofu, Chestnut mushrooms, and other vegetables, with a cashew sour cream.
Get the recipe from One Green Planet

Roasted Carrots and Parsnips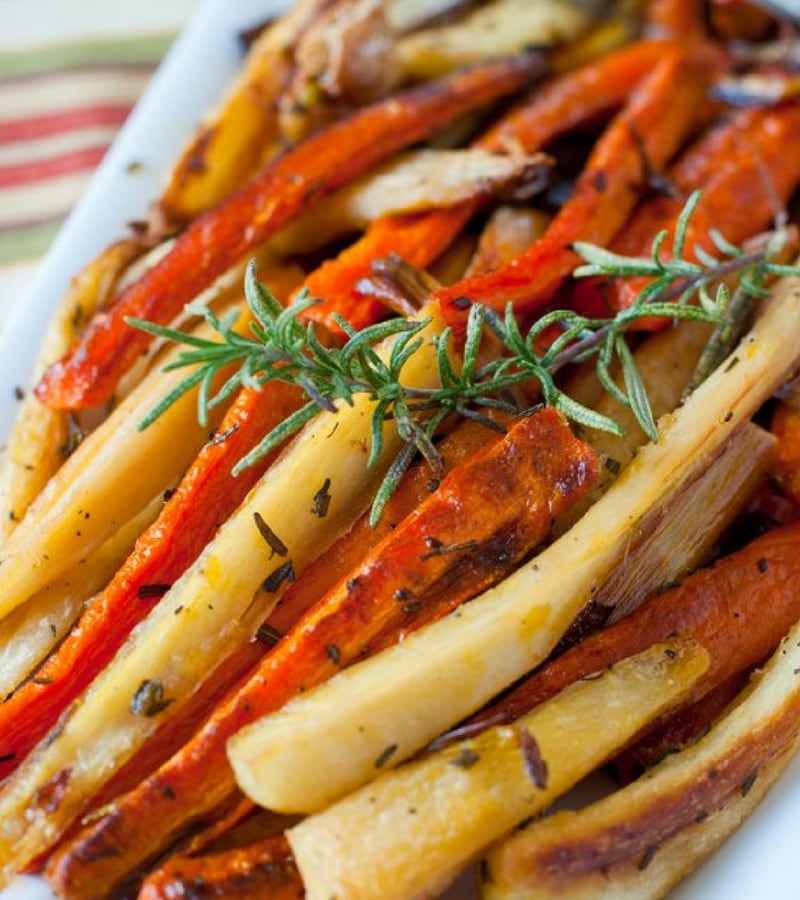 Roasted vegetables are a must on a Christmas dinner table. Carrots and parsnips are root veggies that go so well together. Their taste is similar but when roasted, parsnips are even sweeter. Super easy to prepare, this vegan Christmas recipe is sure to be a hit.
Get the recipe from A Family Feast

Mushroom Stuffed Cannelloni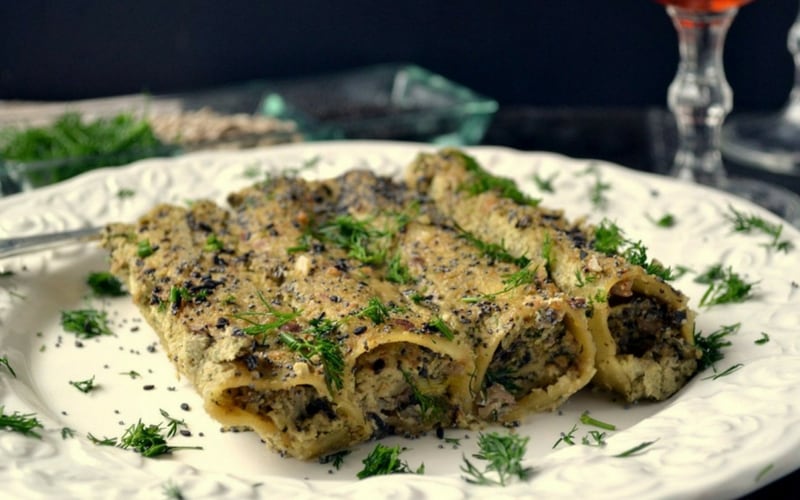 Cannelloni is usually stuffed with meat or cheese. But there is no rule that they cannot be all-vegetable filled instead. This recipe calls for sautéed white Button and Porcini mushrooms, topped with a sunflower seed cream. You will surely appreciate this stuffed cannelloni, which are a fit for a special occasion such as Christmas.
Get the recipe from One Green Planet

Butternut Squashed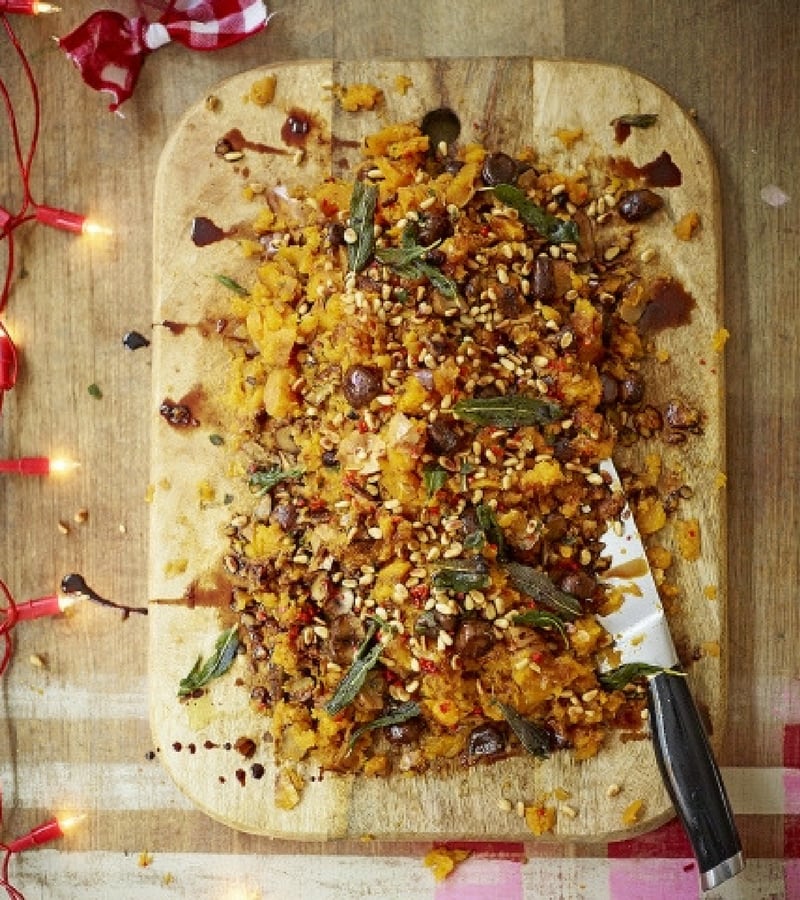 There are so many ways to cook butternut squash. Roasted, in a pasta sauce, pureed, or in a salad, this orange squash is always tasty. This vegan Christmas recipe is by far the easiest method for cooking a squash. You can just add all the flavour at the last minute, when you mash it in.
Get the recipe from Jamie Oliver

Pumpkin and Mushroom Quiche
Quiches are great because they can be served for breakfast, lunch or dinner. They can be eaten cold or hot, and the fillings are limitless. Did you know you can make a quiche without breaking eggs? This vegan quiche crust is made from a blend of flour, buckwheat, and hemp seeds. The creamy pumpkin filling is seasoned with rosemary and sage, and is topped with Porcini mushrooms.
Get the recipe from One Green Planet

Crock Pot Stuffing with Wild Rice Cranberries and Almonds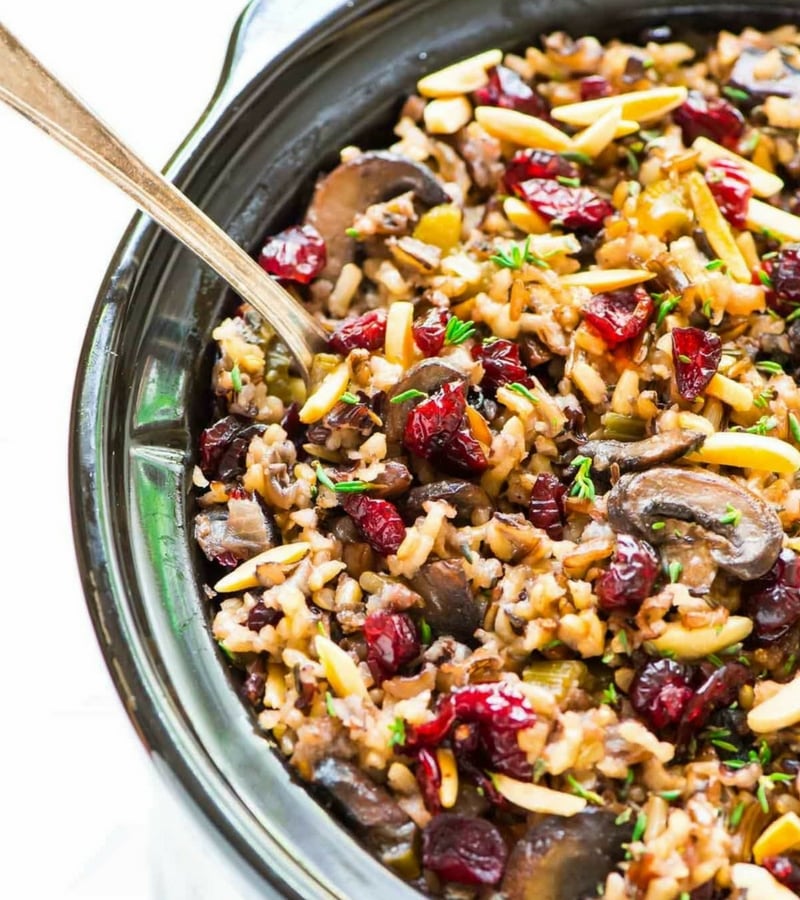 If you don't have a crockpot (slow cooker), go get one now! Crock pots are amazing. They allow you to save so much time. You can throw all your ingredients in the morning, leave for the day, and come back home with your dinner ready to serve. This stuffing recipe is lovely, with wild rice, cranberries and almonds.
Get the recipe from Well Plated

Tempeh à l'Orange with Red Cabbage and Potato Dumplings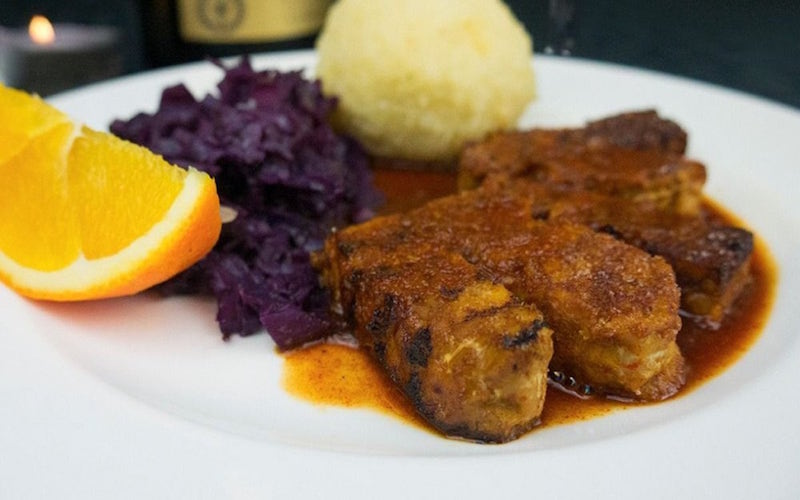 Have you ever had Duck a l'orange? It is a classic Christmas dish. If you're looking for its vegan version, tempeh a l'orange is the answer. Served with two Austrian Christmas sides, cabbage and potato dumplings, this recipe will be a hit.
Get the recipe from One Green Planet

Homemade Cranberry Sauce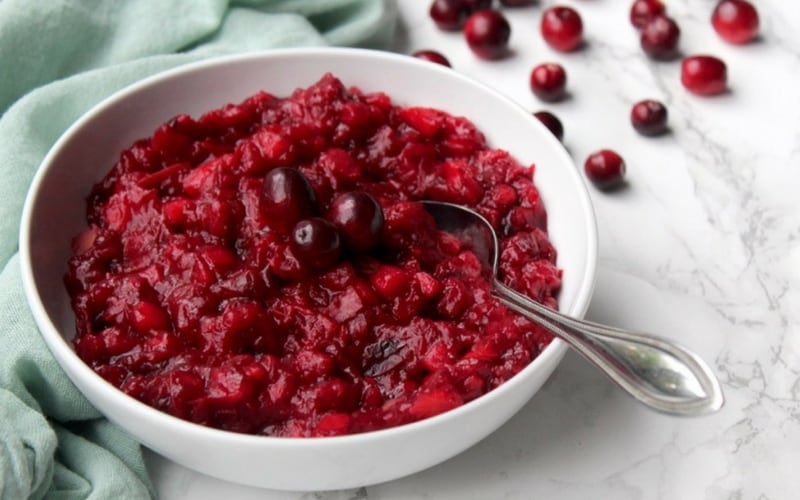 This one is super healthy! Only three ingredients make this sugar-free homemade cranberry sauce: cranberry, apple and pineapple. And it's not just healthy, it's also delicious. The perfect sauce for the perfect holiday feast.
Get the recipe from Eat The Gains

Vegan Potato Salad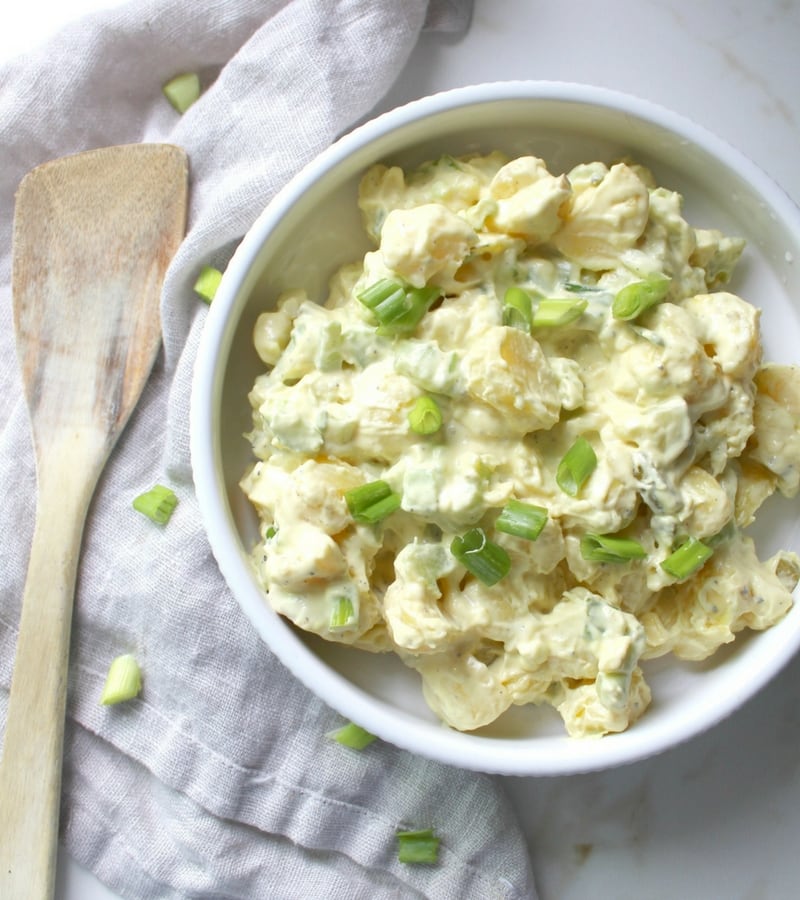 Kids love it, and so do adults. A potato salad is a classic when it comes to friends gathering and potlucks. Eating vegan doesn't mean that you can't enjoy this tasty dish. All you need is a good plant-based mayo! This vegan potato salad is a must-have on your Christmas table.
Get the recipe from This Savory Vegan

Mushroom Wellington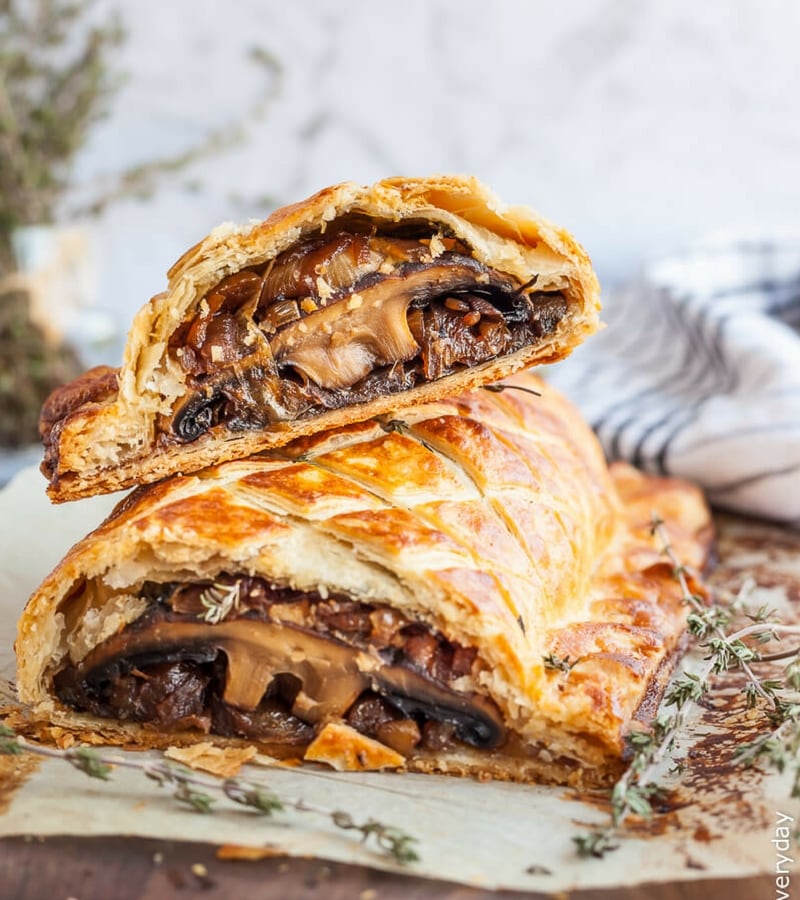 This mushroom wellington will be a favourite at your Christmas party. Juicy Portobello mushrooms replace the traditional beef that we are used to in a Wellington. Another proof that we can enjoy all the comforting foods as a vegan!
Get the recipe from Delicious Everyday

Vegan French Onion Soup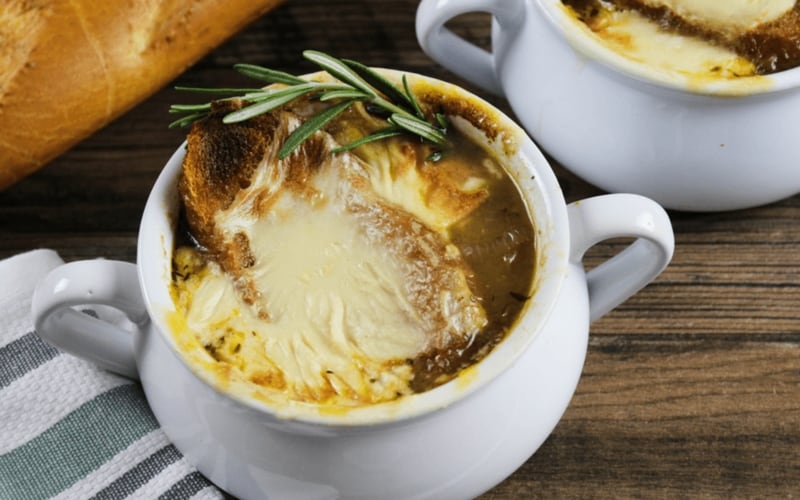 You're probably thinking that this recipe calls for cheese! But no, there is no dairy in this one. Can you believe that it's possible to have soft and stretchy vegan cheese without any dairy? Your guest will be impressed with this vegan onion french soup!
Get the recipe from Vegan Huggs

Vegan Gravy
Super tasty, this vegan gravy is as good as the real thing. Made with vegetable stock instead of animal-based broth, your guests won't even notice that it's vegan.
Get the recipe from Jamie Oliver

Vegan Sausage Rolls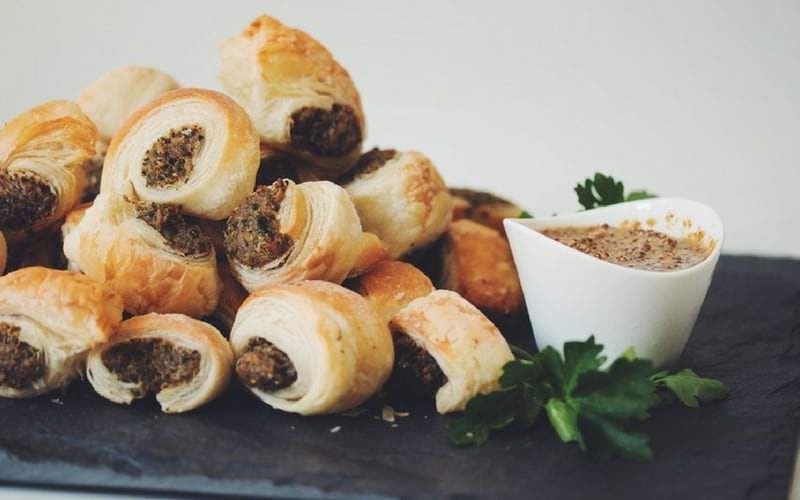 Guests are always delighted to be served Hors d'oeuvres when the night is still young. Maybe they had a long drive and didn't have anything to eat in a while. These vegan sausage rolls will satisfy their appetite before dinner is served.
Get the recipe from Hot For Food

Nut Roast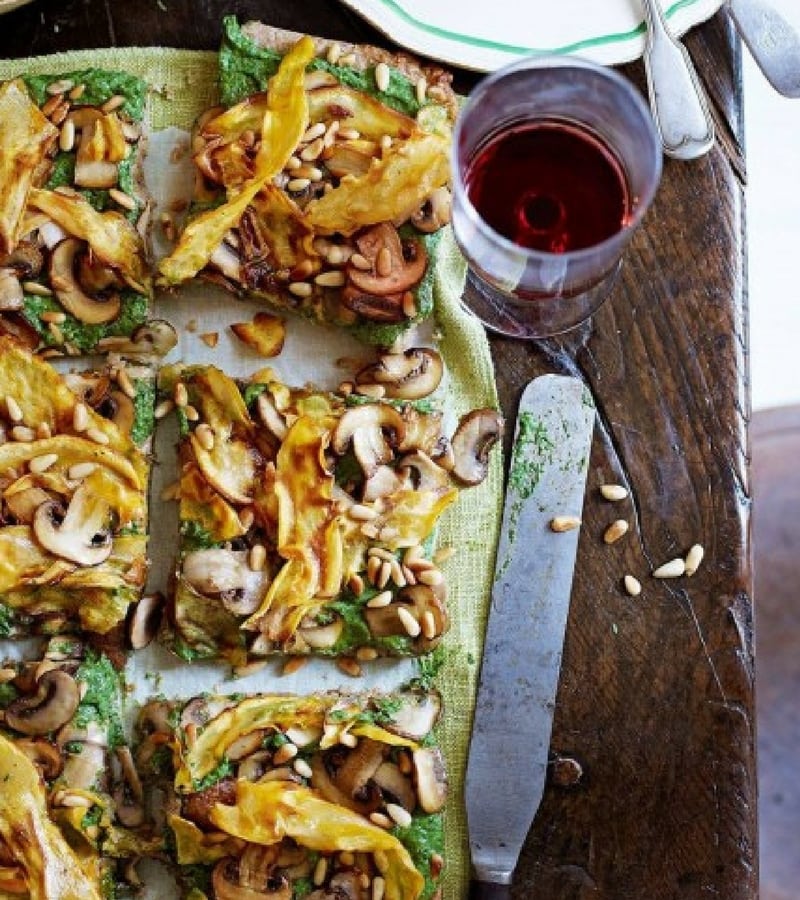 This tart will have everyone tucking in. A tasty toasted nut base, topped with an avocado-spinach cream, and vegetables. A perfect Christmas recipe that proves that vegan doesn't mean boring.
Get the recipe from Jamie Oliver