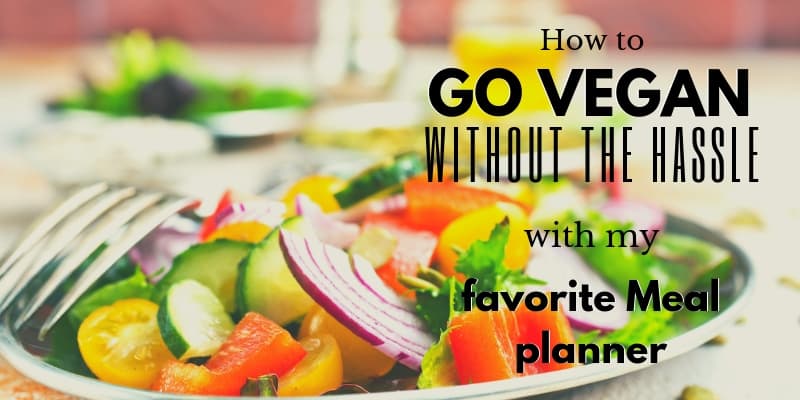 More and more people go vegan or at least try to reduce their intake of animal products…
Why?
3 simple reasons:
1-For the environment
3-For the animals
I don't think that the taste for food is a good reason not to be a vegan… Because vegan food tastes SO DELICIOUS!
But you may need some guidance in the beginning…
If you've cooked pork chops and ribs your whole life, then you probably have NO idea what to do with those beans! Or that boring tofu!
What can help you go vegan
When I decided to go vegan, I first signed up for a cooking class.
It was a raw and living food workshop. It was awesome! I learned so much and got inspired by my teachers.
But then, I got lost again.
I was used to buying animal products at the grocery store without wondering what I was going to do with it… the recipes would just pop automatically in my head…
But as a new vegan, going to the grocery store was not an easy task! I didn't know what to buy because I wasn't able to visualize what I was going to cook during that week.
I needed help!
So I looked for the perfect vegan starter kit. I wasn't interested in eating meat and cheese imitations…
I wanted real food. Whole food!
When I found Alena and Lars from Nutriciously, I was delighted.
Their vegan starter kit "From A to Vegan" has got everything you need to make a healthy vegan diet work!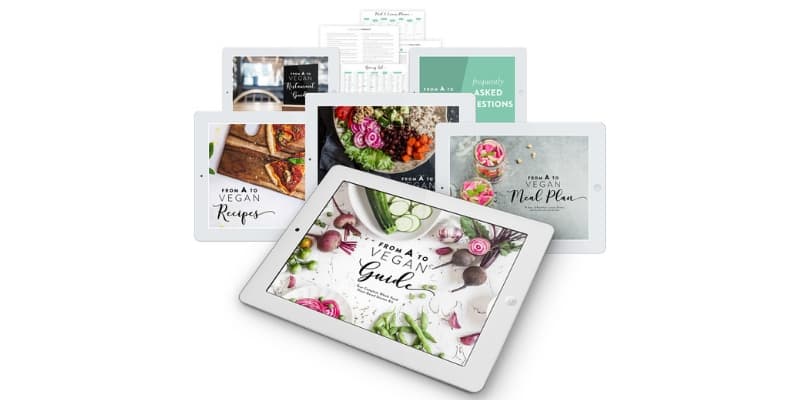 What's a vegan starter kit?
Instead of doing countless hours of research, you can get all the science-based information in one place.
The "A to Vegan" starter kit includes a 200+ pages guide that covers all the information you need to successfully transition to the plant-based lifestyle.
This is an important part because you want to make sure that you meet all of your nutritional needs. Just like any diet, you must do it right…
You will learn all the basics like portion sizes, kitchen appliances, new food staples, and so much more.
A to Vegan recipe book
This vegan starter kit comes with a recipe eBook of over 40 delicious everyday meal ideas.
Easy breakfasts, nutritious lunches, and copious dinners… Plus, these recipes are oil-free and refined sugar-free!
You'll find Asian and Mexican cuisine, pasta dishes, pizza, bowls, etc… There are recipes for all kinds of preferences.
The best part: The meal planner
You will also get an RD-approved 14-day meal planner that includes breakfast, lunch, dinner, and snacks.
The recipes are for one person and they took into account that you might be busy on weekdays. So they included quick lunches and more elaborate dishes for the weekends.
The 14-day meal planner also comes with a shopping list and prepping tips.
A few vegan bonuses
As a bonus, the A to Vegan guide includes a "Meal formulas" section where you will find simple charts to create endless recipe variations. You'll be able to build your own bowls so that you don't have to rely on recipes all the time. Once you understand the formula, you're good to go!
Another priceless bonus is the restaurant guide that shows you how to find vegan meals anywhere you go… Even in fast food restaurants! Eating out as a vegan may seem complicated, but it doesn't have to be anymore!
And last but not least, the program includes a few cheat sheets to make your new vegan life easier… You'll get worksheets and printables containing the most important information for a successful transition.

Know your vegan facts
The process of changing your diet can be overwhelming. First, your friends and family might not approve. They might come up with a million reasons why you shouldn't stop eating meat.
And it's normal… People are scared of the unknown.
But in the beginning, veganism will be new to you too…
So if you don't really know your facts, it will be difficult for you to answer all the questions that are coming your way!
This is why I always recommend people to educate themselves when they go vegan.
I think it's important to understand the science behind the vegan diet so that you have a solid foundation and are ready to answer all the questions.
A to Vegan provides you with easy to understand information from plant-based doctors and experts so that you don't have to read a ton of books to fully understand this new way of eating.
Are there health risks when going vegan?
Like with any diet, you must eat right to get optimal nutrition. You may have heard that a vegan diet puts you at risk for nutritional deficiencies such as iron, calcium, or B12.
Well, this can be true if you're eating a diet of potato fries and Oreo cookies…
But it won't be the case if you're eating a variety of fruits and vegetables, beans, whole grains, nuts, and seeds!
In the Nutriciously A to Vegan starter kit, you will learn about all the important nutrients you need with their recommended daily intake and their best sources.
And you can forget about counting calories or protein… A plant-based diet is about abundance and should never be restrictive!
I hope that your transition to veganism will be super easy and fun!
This is a great investment in your health… you won't regret it, I promise!
Cheers!

PS. If you're on the fence, try their FREE 7-Day meal plan of vegan bowls or their FREE vegan transition Ecourse!