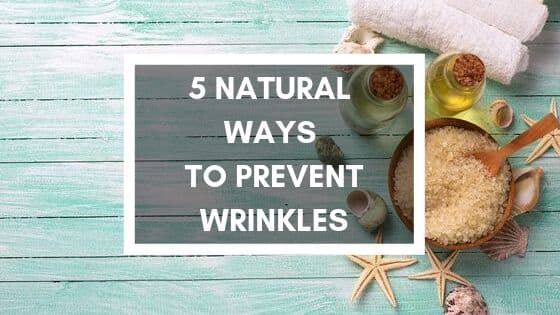 It's easy to say that we should all embrace our golden years… but the truth is that nobody loves to see new wrinkles appear!
Our genes have a lot to do about our skin's structure. But it's sun damage and poor lifestyle choices like smoking and drinking that cause most wrinkles.
There are many things you can do to slow down the process.
At the pharmacy, you will find a ton of wrinkle treatments… Some work and some don't. (I believe none of them works!)
But remember that the best treatment for wrinkles is to prevent them from appearing in the first place!
How to Prevent Wrinkles
1. Stay out of the Sun
Whenever you're outside in the sun, you should protect your skin from its damaging rays. We've known for a long time that the sun causes wrinkles.
Wearing sunscreen is a must if you're not wearing a hat or clothing that is UV protective.
2. Eat Food that Protects you from UV Rays
Foods that are rich in antioxidants have the ability to protect you from skin damage and wrinkles. Dark leafy greens, red/orange fruits and vegetables are the ones you should focus on.
In this study, they found that women who ate more green and yellow vegetables had less facial wrinkles.
Foods that are rich in omega-3 fatty acids also keep free radical damage from happening in your skin.
3. Stop smoking
Smoking always leads to premature ageing and wrinkles.
The nicotine in cigarettes stops blood flow to your skin, depriving the outer layer of your skin of oxygen and nutrients.
4. Stay hydrated
Staying hydrated keeps you moisturized from the inside out. Drinking enough water also helps eliminate harmful toxins in your body.
We should all drink at least 2 litres of water per day.
To spice things up a bit, enhance the flavour of your water with these detox water recipes. Or drink green tea or coconut water, which both contain lots of antioxidants.
5. Use Natural Products on your skin
Instead of spending hundreds of dollars at the pharmacy on fancy lotions that are actually terrible for your skin, why don't you try natural oils?
We all have oils in our kitchen, right?
Try coconut oil, vitamin E oil, argan oil, olive oil, grapeseed oil, or hemp oil… They can all do wonders for your skin.
One more thing you can do…Fasting
In 2016, a scientist won the Nobel prize for its incredible discovery: our body is able to regenerate old cells into new material and energy when we are fasting.
This process is called autophagy. It's kinda like our body eating itself… It recycles damaged cells and other garbage into new cells.
This means that the immune system gets rebuilt and the process of ageing is slowed down!
This is why people who fast regularly have beautiful skin and always use younger than they are.
If you don't know how to fast or are afraid to do so, try my 7-day program. It gives you all the benefits of water fasting but it's much easier!
Are you afraid of wrinkles? What do you do to prevent wrinkles from appearing on your face? Let me know in the comments below!
Other articles you might be interested in: