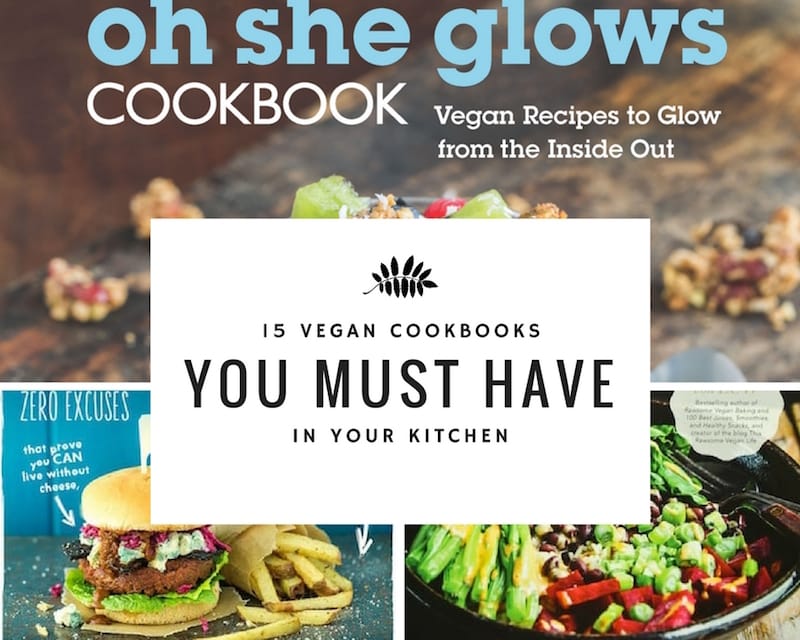 Many people are still under the impression that vegan food can be bland, boring and complicated to make. On the contrary, vegan cooking can be so easy and delicious, especially if you have the right cookbooks in your kitchen.
Eating plant-based means loading your body with essential nutrients and avoiding harmful fats and cholesterol. If you still believe that a vegan diet is deficient in protein, vitamins or minerals, think again. It is possible to get all the protein you need in a balanced vegan diet. Plants also contain all the vitamins and minerals required to maintain a healthy body, like calcium and iron.
Whether you are a vegan newbie or an experienced home chef, you will enjoy trying the recipes from the vegan cookbooks we selected for you. If you are following one of our detox programs, many of these recipes will be perfect for your preparation diet. Here are 15 vegan cookbooks you should definitely have in your kitchen.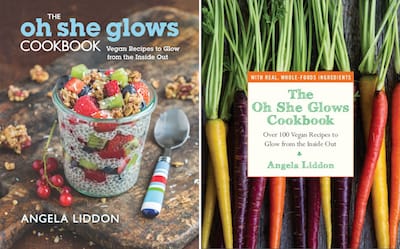 The Oh She Glows Cookbook
Angela Liddon is a self-trained chef and food photographer. She first started a blog, ohsheglows.com, which has brought her fans from all over the world. OH She Glows is most certainly one of the most popular vegan recipe blogs on the internet.
In this cookbook, you will find 100 mouth-watering vegan recipes from classics that even omnivores will love. The Oh She Glows Cookbook also includes more than 90 gluten-free recipes, as well as many recipes free of soy, nuts, sugar, and grains.
Whether you are a vegan or you simply want to eat delicious food, this cookbook is a must-have.
Buy The Oh She Glows Cookbook on Amazon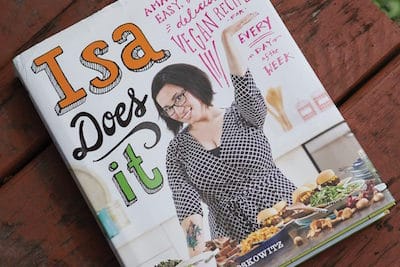 Isa Does It: Amazingly Easy, Wildly Delicious Vegan Recipes for Every Day of the Week
With the help of Isa Chandra Moskowitz, you will be able to make flavourful vegan meals from scratch in 30 minutes or less. In her book Isa does it, she provides 150 recipes, tips, and strategies for easy and delicious vegan meals every day of the week.
Her recipes are supermarket friendly, knowing that most readers are busy and don't have time to run around the city looking for rare ingredients. This cookbook will make anyone's time in the kitchen more fun and productive. You will discover delicious vegan recipes like Bistro Beet Burgers, Sweet Potato Red Curry with Rice and Purple Kale, and Summer Seitan Saute with Cilantro and Lime. You will be amazed how simple meat-free food can be.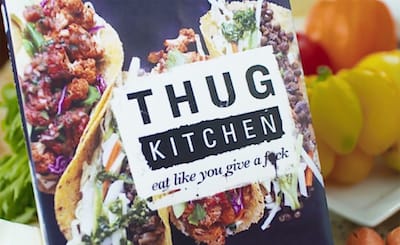 Thug Kitchen: Eat Like You Give a F*ck.
The Thug Kitchen first started their journey to inspire people to eat more vegetables and adopt a healthier lifestyle. Using slang and a lot of F words, Thug Kitchen rapidly became a hit on social media. In this vegan cookbook, more than 100 recipes are brought together. You will find their favorite meals, snacks and sides for beginners and home chefs.
This vegan cookbook is an invitation to everyone who wants to elevate their kitchen game. Making everything from scratch has never been that much fun before. You will laugh out loud while reading the Thug Kitchen recipes. Here's a video for you to understand what we are talking about: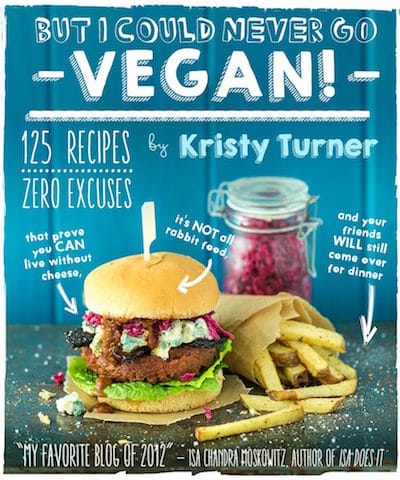 But I could never go vegan!
This vegan cookbook is for those who can't imagine living without cheese. Or for those who are convinced that dairy-free baked goods are just not good enough. Or for those who hate the taste of tofu and boring salads.
Kristy Turner is a blogger and an author who refutes every excuse you have ever heard with 125 delightful vegan recipes. Homemade Seitan, Barbecue Sauce, Tempeh Bacon Mac 'n' Cheese with Pecan Parmesan, Tofu Chèvre, Mushroom Cheddar Grilled Cheese Sandwiches, Chickpea Scramble Breakfast Tacos, Lemon Cornmeal Waffles with Blueberry Sauce, Gnocchi alla Vodka and Dark Chocolate Sorbet are some examples of what she can do.
Buy But I could never go vegan! on Amazon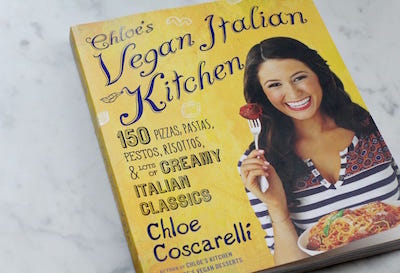 Chloe's vegan Italian kitchen
Chloe Coscarelli is a popular vegan chef. In this book, she digs into her Italian roots to create more than 150 recipes inspired by Italian cuisine. For Chloe, vegan does not mean giving up pasta in creamy sauce, cheesy pizza, and luscious tiramisu. This is why she went to her family's homeland to veganize its best delicacies.
You will discover sumptuous entrees like Butternut Ravioli, Crumbled "Sausage" and "Mozzarella" Pizza, Potato Gnocchi, Lasagna Bolognese, and Eggplant Parmesan. Chloe's got the classics desserts covered with Chocolate-Dipped Almond Biscotti and Italian Wedding Cake. She also includes directions for turning her recipes allergy-free and gluten-free.
Buon appetito!
Buy Chloe's vegan Italian kitchen on Amazon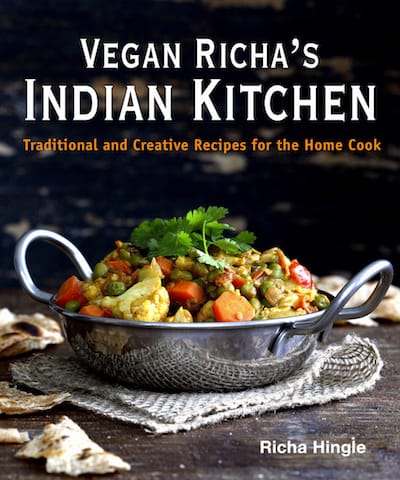 Vegan Richa's Indian kitchen
This is Richa Hingle's collection of plant-based Indian recipes inspired by regional cuisines, Indian culture, and local foods. Everything is there, from delicious dals to rich curries, flat breads, savoury breakfasts, snacks and desserts.
All the recipes in this cookbook will please your senses, including a mango Curry Tofu, Gobi Musallam, Street Style Tempeh Wraps, Tamarind-Date Chutney, Avocado Naan and fudgy Cardamom Squares. You will find replacement spices whenever it is possible, with alternatives that allow people to be creative in their kitchen. These recipes are allergy friendly and many have gluten-free and soy-free options.
Buy Vegan Richa's Indian kitchen on Amazon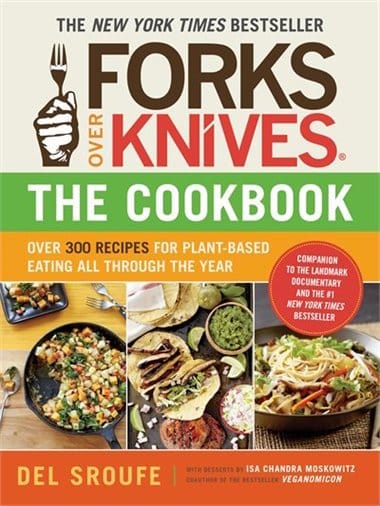 Forks over Knives the cookbook
You probably already know about the movie Forks over Knives… If not, you should definitely watch it! The message of the Forks over Knives movement is clear: If you want to lose weight, lower your cholesterol, avoid cancer, and prevent (or even reverse) type 2 diabetes and heart disease, make food your medicine!
Chef Del and his collaborators Julieanna Hever, Judy Micklewright, Darshana Thacker, and Isa Chandra Moskowitz are proposing more than 300 recipes for every meal of the day. Smoothies, Breakfast, Salads, Soups and Stews, Pasta and Noodle Dishes, Stir-Fried, Grilled and Hashed Vegetables, Baked and Stuffed Vegetables, beans and grains recipes, and amazing desserts. All from whole plant foods!
Buy Forks over Knives on Amazon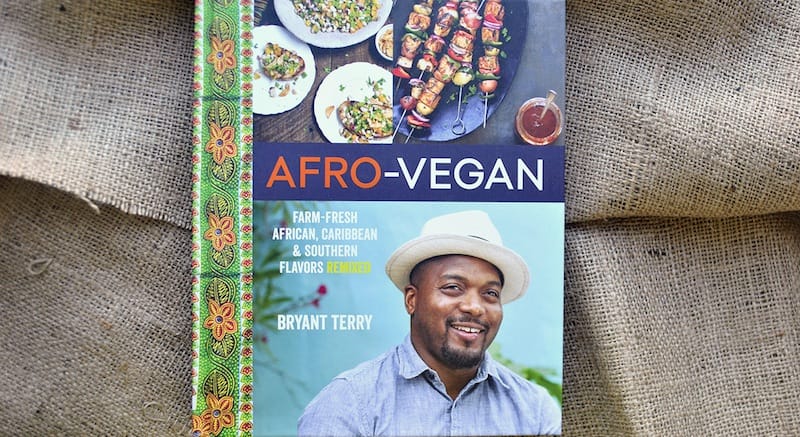 Afro-Vegan: Farm-Fresh African, Caribbean, and Southern Flavors Remixed
This vegan cookbook is for anyone interested in improving their well-being. In Afro-Vegan, renowned chef Bryant Terry presents more than 100 creative African inspired meals that will take you on an international food journey.
The author mixes African, Caribbean, and southern cuisines, which results in delicious recipes like mashed potatoes, peas, and corn with chili-garlic oil, a recipe inspired by the Kenyan dish irio, or a Moroccan tagine of cinnamon-soaked wheat berry salad with dried apricots, carrots, and almonds, or a creamy coconut-cashew soup with okra, corn, and tomatoes, which is an homage to a popular Brazilian dish.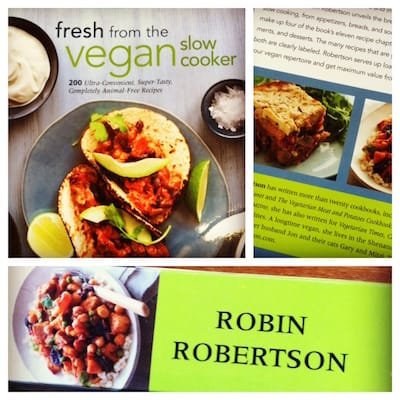 Fresh from the Vegan Slow Cooker
Fresh from the Vegan Slow-Cooker includes comforting foods in the American and European style, Asian, and Mexican/Latin dishes. Beans, which cook slowly under any circumstance, are fabulously well-suited to the slow cooker, and Robin Robertson includes such appealing recipes as a Crockery Cassoulet and a Greek-Style Beans with Tomatoes and Spinach. Her chilis and stews will amaze you, as well as the snacks and appetizers, desserts, breads and breakfasts. Altogether, this cookbook offers many ways to get maximum value from your investment in a slow-cooker.
Robin also provides practical information on how to work with different models of slow-cookers with delicious, meat-free recipes. She shows how to take into account the water content of vegetables and the absorptive qualities of grains when vegan slow-cooking.
Buy Fresh from the Vegan Slow Cooker on Amazon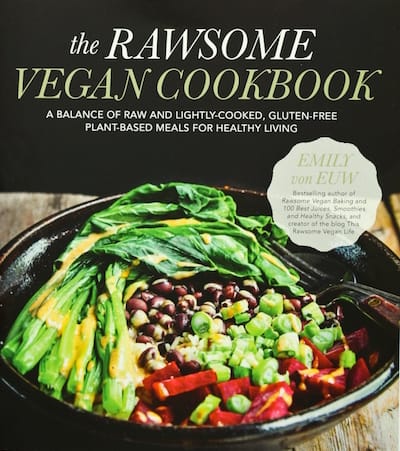 The Rawsome Vegan Cookbook
Emily von Euw presents raw and lightly-cooked savoury recipes to delight anyone interested in a healthy and delicious way to dine. The stunning main dishes are easy to make and so tasty.
Emily offers a collection of more than 80 recipes, including Rawsome Pizza, Epic Portobello Yam Burgers, Zucchini Noodle Lasagna, Mac n' Cheeze, Freedom Falafel and Pumpkin Soup. Emily's creative meals will impress your taste buds and make you feel energized and nourished from the inside out.
Buy The Rawsome Vegan Cookbook on Amazon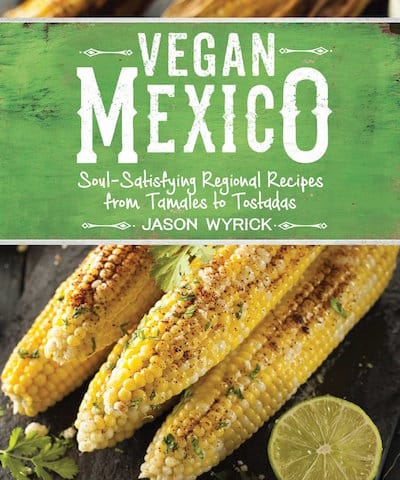 Vegan Mexico: Soul-Satisfying Regional Recipes from Tamales to Tostadas
Jason Wyrick is also the author of the best-selling cookbook Vegan Tacos. In Vegan Mexico, he now explores the magic of Mexico's regional cooking. Jason's delicious vegan recipes capture the essence of the Mayan legacy of the Yucatan, the moles of Oaxaca, the smoky chile flavors of Zacatecas, the Spanish influence of Veracruz, the fruit-centric Southern regions, and the street food of Mexico City.
In this vegan cookbook, Jason shares the concepts for making authentic Mexican cuisine, as that you get a new understanding of the flavors of Mexico. Without a doubt, you will be inspired to make delicious Mexican dishes from now on.
The Mediterranean Vegan Kitchen
Many scientists have declared that the Mediterranean diet was the best one for overall health. So the author, Donna Klein, had the wonderful idea to veganize it and make it even better! This Mediterranean vegan cookbook is ideal for vegetarians, for those with a lactose intolerance, or for anyone who wants to make delicious dishes without animal products.
All the classics are revisited, from Sicilian Eggplant Relish, Catalan Grilled Vegetables with Almond Sauce, Italian Minestrone, Moroccan Fresh Tomato Salad, Black Olive Bread, Zucchini-Lemon Couscous, Greek Currant Cake and Braised Pears in Red Wine. Who said eating vegan was boring?
Buy The Mediterranean Vegan Kitchen on Amazon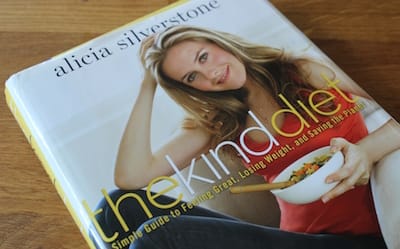 The Kind Diet
The well-known actress and activist Alicia Silverstone encourages everyone to go meat-free and dairy-free forever in her book The Kind Diet . She introduces delicious food that will satisfy you and your family on every level. Alicia also addresses the nutritional concerns faced by many who are new to a plant-based diet. She explains how to cover every nutritional base, from protein, to calcium and iron.
With the Kind Diet, Vegans get to experience the health benefits of avoiding animal-products, while still enjoying many convenience foods and meat substitutes. Whether your goal is to lose weight, boost your energy, improve your metabolism, or save the planet, Alicia provides the information you need to make the transition to a plant-based diet.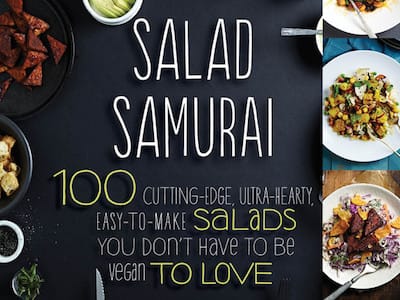 Salad Samurai
Terry Hope Romero is an award-winning chef who wanted to rescue salads from their boring reputation. In Salad Samurai, you will find more than 100 vibrant, filling salad entrees.
Organized by season so that you can enjoy memorable meals for a full year, this vegan cookbook is your guide to making awesome salads, based on whole food ingredients and seasonal produce. Salad samurai also includes gluten-free options, high-protein meals and quick and easy recipes.
For the French people our there, we included a French cookbook from Quebec….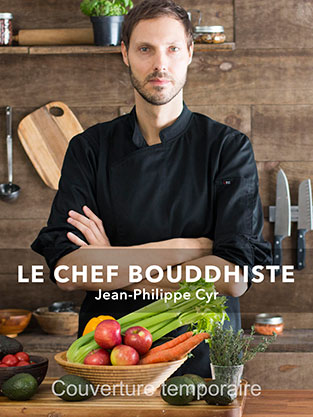 Le Chef Bouddhiste
Après une brillante carrière en restauration, le chef montréalais Jean-Philippe Cyr partage avec des centaines de milliers d'internautes son amour de la cuisine végane, via son site "La cuisine de Jean-Philippe". Dans son tout premier livre, Le Chef Bouddhiste, il nous transmet sa philosophie à travers 75 recettes végétaliennes, simples et délicieuses. Son livre est disponible en prévente sur son site web et, pour un temps limité, il est possible de recevoir une copie signée par Jean-Philippe.
Some of the products listed above are affiliate links. This means that I will earn a commission if you purchase through those links. Don't worry, this is at no extra cost to you, thank you for your support.