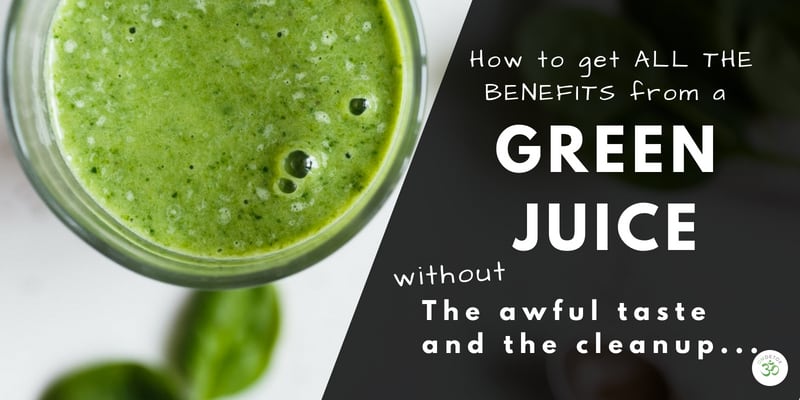 I think you'll agree that juicing does wonders for the body…
But not everyone enjoys the taste of vegetable juice.
Green juices can often be bitter in taste, so it's difficult to make it really tasty…
But I think that tasty or not, greens are an important part of your diet.
So today I have the ultimate solution for you!
I found a green juice that DOESN'T taste like crap…
Plus, it won't make a mess in your kitchen!
Isn't that awesome?!
Of course! Because juicing is awesome!
Nutrient dense vegetables provide a huge amount of essential vitamins, minerals, antioxidants, and phytonutrients…
So please, don't avoid them!
And juicing is also very important…
It allows you to get a truckload of those amazing nutrients in just one glass.
The benefits of juicing are truly awesome!
More energy…
Better looking skin…
Better sleep…
Weight loss…
Happiness…
I find that I always feel happier when I'm juicing!
People even report curing their diseases after discovering the magic of juicing…
But here's the catch…
Some people really hate the taste of green juice.
It's just not sweet enough for them.
Or it's too bitter. And it's true, it can be…
If you're one of those people, I have THE solution for you.
I rarely plug other people's product but this one, I had to tell you about it…
It's like you're getting all the benefits from juicing without juicing!
I've been trying Organifi for over a month now and I'm so happy with it.
Here's why…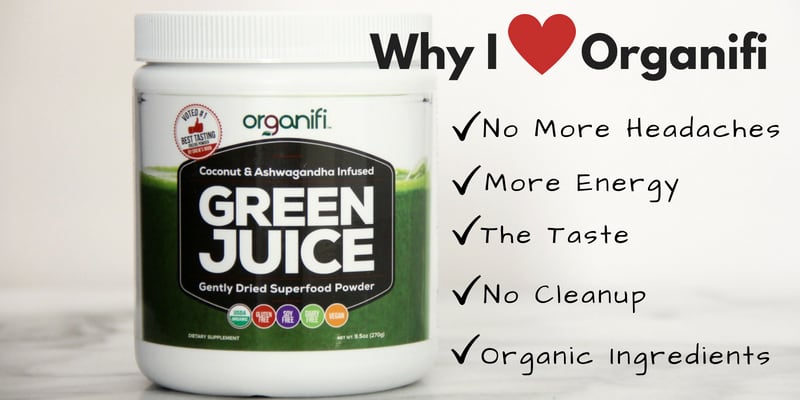 #1 No more headaches
After I gave birth, I was getting terrible headaches… (I don't sleep much with a baby!)
And since I prefer not to take Tylenol, I just try to live with them…
But now that I'm drinking Organifi, my headaches are completely gone!
And that was just after a few days of taking it…
I was very impressed.
#2 More energy
With the baby, I often find myself super tired in the middle of the day.
And since I'm also taking care of my online business, I often get overwhelmed with all the stuff I have to do.
Every day, I spend a lot of time on the computer writing blogs, responding to emails, and talking to clients…Plus the baby, the house chores, the meals… I get really tired!
But since I drink Organifi, I have so much more energy!
I find that I am more focussed and dedicated to my work.
So that's a big YES for me!
#3 The taste
What I really like about the Organifi Green Juice is that it doesn't taste like grass or seafood!
I think that consuming algae like spirulina and chlorella is super important.
But the problem is that I get so fed up with the taste after using it for a few days!
Same thing with wheatgrass powder…
If you don't have the time to grow your own, then you'll find that wheatgrass powder just tastes horrible!
That's why I sell my green superfoods in capsules!
But if you want to consume these goodies in a juice or a smoothie, then Organifi Green Juice is what you need!
It's sweetened with monk fruit and a few other fruits…No harmful sugar!
#4 No Clean up
Another thing I find amazing with Organifi green juice is that it's so simple…
No mess, no clean up.
I mix it in a glass jar with plain water, and that's it!
I used to juice a lot with my boyfriend…We both love the feeling it procures.
We even got the Omega juicer, a real beast!
But OMG. Cleaning up the juicer takes me so much time!
I have to take all the pieces apart to clean it…
And on top of that, there's juice everywhere on the counter.
Well… not with Organifi!
#5 The organic ingredients
With organic ingredients like spirulina, chlorella, moringa, matcha, wheatgrass, coconut water, ashwagandha, and turmeric, you can't go wrong…
I think that because of our busy lives, most people don't get all the micronutrients (vitamins and minerals) they need in a day.
This is why it's important to supplement.
And it's even more important to choose quality supplements.
So this is a reason why I feel so good taking Organifi green juice…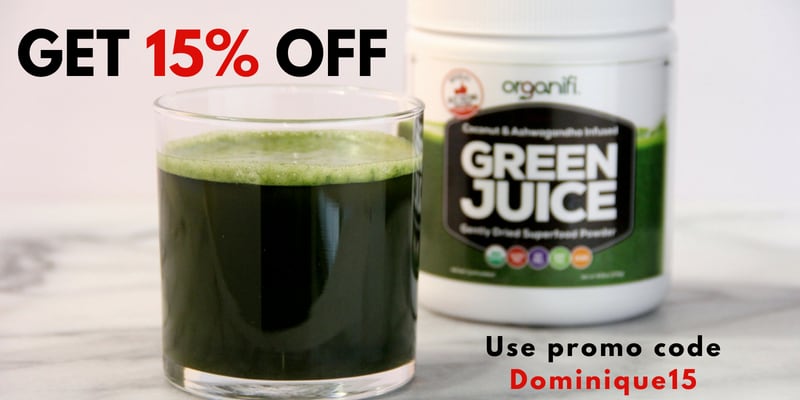 I'm so pumped! I contacted them to let them know that I was going to talk about it on my blog, and they gave me a special promo code for you guys.
So just enter the code Dominique15 and you'll get a 15% discount!
Isn't that awesome!!!
So get it now and let me know if you like it as much as I do!
You can buy Organifi Green juice right here
Cheers!