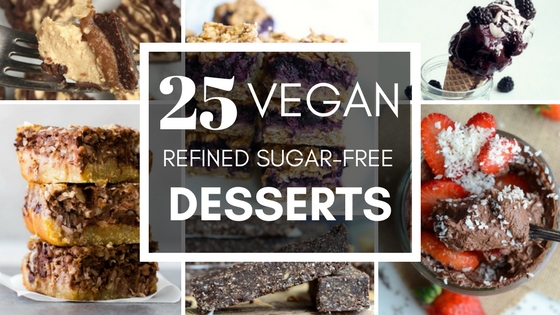 Refined sugar-free desserts don't have to be boring and tasteless. Natural sweeteners can also give a fabulous taste to your cookies and pies, while being healthier than regular sugar.
Americans consume more sugar than any other country in the world. The average American eats more than 125 grams of sugar daily, which is closely linked to the obesity epidemic.
Would you consider yourself a sugar addict? Do you also find yourself gaining weight, just looking at a cake? Desserts are usually loaded with sugar, which makes them completely addictive. You want to be healthier, but don't want to quit desserts?
It's time for you to ditch the bad sugars and replace them with healthier, non-refined sweeteners, like banana, dates or maple syrup. This way, you will be able to satisfy your sweet tooth while keeping your health in check.
Check out these 25 refined sugar-free desserts. They are to die for!
Oh, and… They're all vegan!